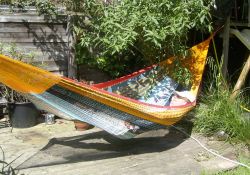 You are looking for a beautiful, comfortable hammock. From our large stock you can choose from Mexican, Brazilian hammocks and Mexican blankets.
Mexican hammock
The Mexican hammock is made by Maya Indians in Yucatan, Mexico. Very comfortable and colorful. Easy to take on holidays. The Mexican Hammocks are available in 5 sizes. Every multicolor hammock has unique colors. Also we have all possible unicolors in stock.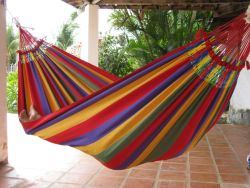 Brazilian hammock
Comfortable, very beautiful and excellent to relax in. We carefully choose a fantastic collection of Brazilian hammocks.  Also very decorative inside the house. We have different sizes in stock.
Mexican blanket
Beatiful and colorful mexican blankets. Can be used as blanket, tablecover or plain. 100% coton.